Are you a Home Owner, Store Owner or Commercial Facility Manager or
anyone else who got TAGGED?

Tagging is pretty much the worst.
Whether you're a homeowner, business owner, store, mall or property owner—graffiti doesn't discriminate.
So why not take a DIY approach and wipe out these eyesores from your building yourself?
Taginator and Tagaway are your premier graffiti remover solutions.
Truly—graffiti removal has never been easier, especially for those in property management with a do-it-yourself attitude.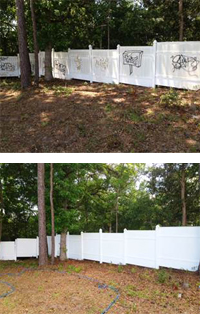 Tagaway is specially designed for smooth and durable painted surfaces with just a wipe away
to get your wall back to normal in no time. It's easy-to-use and trouble-free.
This wipe away method allows you to get rid of graffiti quickly. Who doesn't love such convenience?
Taginator is ideal for stone and porous surfaces, guaranteed to wash away graffiti in a manner of minutes.
Simply spritz and power wash your building with Taginator to maintain your high standards and property value.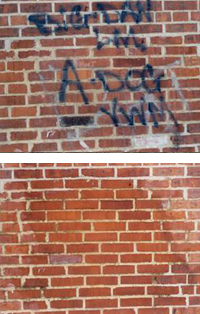 Both are biodegradable so you can rest assured you're not showering nearby plants with harmful chemicals.
Tagaway and Taginator are safe for the environment and the world around you.
Known to clean spray paint and efficiently remove marker stains, Tagaway and Taginator are a must-have in this world of hit-and-run graffiti attacks.
Being a homeowner presents a variety of challenges, but tagging shouldn't be one of them.
That's why Tagaway and Taginator are a homeowner's dream come true.
No need to call a specialist and wait around for hours. Now you can remove unwanted graffiti yourself so you can get on with the rest of your day!
If tagging is bothering you and your property, take the Tagaway and Taginator DIY approach.
Your business. Your building. Your chance to make it clean and keep it clean.
Got Questions?
Just give us a call.
1-877-824-7763 ext 114

Learn More
Purchase Recommended Products Below